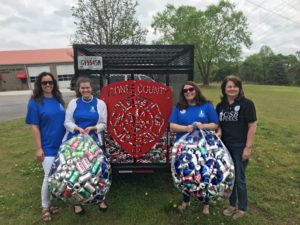 Oconee State Bank's (OSB) Green Committee is dedicated to educating and supporting our team members to practice more environmentally sustainable habits and to be good stewards of our precious natural resources.  We have partnered with Keep Oconee County Beautiful to provide aluminum can recycling containers at each Financial Center, and have donated the aluminum to the Oconee County Fire Department.  Everyone can help contribute to "Going Green" by making small changes to their everyday routine!
Ways to Recycle in our Community   
Plastic bags and Styrofoam are not recyclable in Oconee County or Athens-Clarke County single stream system. Instead, you can drop these off in the green bins found outside of Publix. Kroger has bins for bags but not Styrofoam. Plastic bags include the wrapping to toilet paper and paper towels, grocery store bags, bread and stretchy produce bags, and zipper storage bags with the zipper removed. Make sure all recyclables are clean and dry.
Cooking grease and oil can clog drains and contaminate the sewer systems leading to nasty overflows of greasy chemical sludge. In 2017 London had a 130-ton "fatberg" formed from this sludge in its sewers that had to be removed. Instead of pouring down the drain or in the trash, you can collect used grease and take it to CHaRM- the Center for Hard to Reycle Materials. Used cooking oil can be recycled into many different products including biodiesel, plastics, candles, and more. CHaRM is located at 1005 College Ave, Athens, GA 30601.
Batteries contain chemicals that are harmful, and also precious metals that can be reused. They should never be thrown in the landfill. If you use a lot of batteries, consider investing in rechargeable batteries. You can take used alkaline batteries for recycling to CHaRM and used/rechargeable batteries can be dropped at Best Buy or CHaRM.
Used motor/gear oil and used automobile batteries can be recycled at any Advance AutoParts. Advance AutoParts even offers a store gift card for your old car battery. Used motor oil can be used to heat homes, businesses, or to be used at power plants that produce our electricity. Learn more at https://shop.advanceautoparts.com/r/advice/car-maintenance/why-recycle-motor-oil.
Christmas lights don't seem to last as long as they once did. Instead of throwing them away each year, you can take your broken lights to be recycled at Lowe's or Home Depot during the holiday season or you can take them to CHaRM year round to be recycled.
If you get prescriptions from Publix, the pharmacy will accept the bottles back. They send them to the manufacturer to be recycled into new bottles.
Aluminum cans can be dropped at Oconee County Fire Rescue Station 1. This helps the all-volunteer department purchase incidentals. Why not help the folks that donate their time to keep us safe and be green in the process? You donate them in the trailer outside located at 7575 Macon Hwy, Watkinsville, GA 30677.
Used desktop and laptop computers, mobile phones and tablets, LCD and CRT monitors, laser/inkjet printers and toners/ink cartridges, computer speakers, PS2 or USB keyboards and mice, memory, hard drives, disc drives, cable and DSL modems, network routers and switches, grounded extension cords, power strips, battery backups, and tools of all varieties can be donated to Free I.T. Athens. Founded in 2005, Free I.T. Athens is an all-volunteer nonprofit organization dedicated to providing reclaimed and refurbished technology, as well as educational opportunities, to those in need. We are advocates for free software and free technology. Arguably Athens' oldest technology nonprofit, Free I.T. Athens combines the power of community collaboration, free software, and rescued technology, and changes lives and the environment for the better. Since its founding, Free I.T. Athens has responsibly rescued more than 100 tons of unusable equipment from landfills.  It has distributed more than 2,000 refurbished computers to individuals, community groups, start-ups, churches, and nonprofits in Cameroon, El Salvador, Peru and the United States. Learn more by visiting https://www.freeitathens.org/.
Used mascara wands can be cleaned and sent to Wands for Wildlife. The wands are used to remove fly eggs and larva from the fur of wild animals. Information on donation can be found at https://www.appalachianwild.org/wands-for-wildlife.html.
Used clothing and shoes that are not fit for donation can be recycled at any Green Zone bin. The company is based out of North Carolina but there are 1,000 donation sites along the East coast. One local site  is located in the Kroger parking lot at 700 US Highway 29 N near the fueling station. The company is looking for more sites to host a bin so if you own a business and want to host a bin, you can contact them directly at http://www.greenzonenc.com/.