Community Collaborations
Oconee County & Athens Area Chamber's of Commerce 
by: Oconee State Bank Marketing
Most recently, Oconee State Bank partnered with the Oconee Chamber of Commerce and the Athens Area County Chamber of Commerce to host the joint chamber education event, featuring Dr. Randy Ross.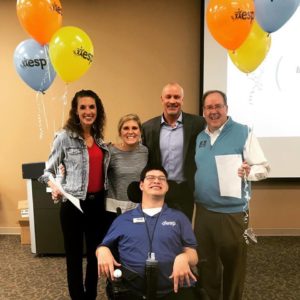 Our surrounding chambers are dedicated to improving and empowering our local businesses to be successful, and grow, daily, into the businesses they desire to become. Similarly, Oconee State Bank values supporting our local businesses, and constantly engaging in idea sharing and relationship building.
THAT is the reason we always enjoy partnering with the Oconee and Athens Area Chambers, in an attempt to bring value to the lives of our local businesses and to our own community.
"The success of the Oconee Chamber of Commerce is dependent on the success of the businesses we serve and our ability to collaborate with our partners. We are truly blessed to have such a longstanding partnership with Oconee State Bank; a cornerstone of our region with a team of remarkable individuals willing to serve because they want to, not because they have to. Collaboration with OSB is easy because of their amazing team and their willingness to think creatively, think big and go the extra mile. What makes our partnership with our OSB so valuable is our ability to bring in other regional partners, like the Athens Area Chamber of Commerce, to broaden our reach and impact many. We are proud of the events we can all do together, we engage, inspire and connect more individuals and we consider that a HUGE win for all! The Oconee Chamber of Commerce is a better organization because of our partnership with OSB," -Courtney  Bernardi, President, Oconee Chamber of Commerce. 
Samuel Vaughn, of Lamar Advertising, on his experience at the OSB & Joint Chamber Educational Event, featuring Randy Ross. 
OSB Chamber Involvement: 
OSB is the presenting sponsor for the Oconee Chamber Golf Tournament, and each year we host a Chamber Coffee or After Hours, for business networking. 
OSB has also been very engaged in the Women in Business group by hosting a luncheon, on average, every other year. 
OSB has numerous team members that serve the Chamber by working and serving on various committees, including Cristi Donahue who is the volunteer of the year and is poised to be the Chair for 2020.