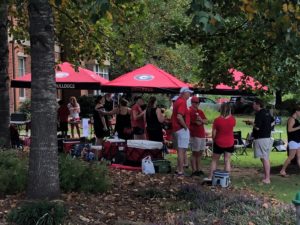 Tailgate Time- Dawg Style! 
by: Hal Jackson, VP- Commercial Lender at Oconee State Bank
For those that know me know that I love my Georgia Bulldogs!  I have missed only one home game since 1985 and have been to every stadium in the SEC except Texas A&M only because my Dawgs haven't played there yet.  I live for fall Saturdays and tailgating with friends and family.  There are many wonderful experiences and atmospheres in the SEC.  You can't argue that LSU's Tiger Stadium rocks at night.  It is cool to see the eagle fly in at Auburn before kickoff.  The best entrance in all of college football is the T opening up in Knoxville when Neyland Stadium is rocking.  You cannot deny the beauty of The Grove in Oxford, Mississippi.  The atmosphere in Jacksonville for the annual Georgia Florida game is second to none.  All of the schools in the South have wonderful tradition and atmospheres.  Football is sort of a religion down here you know, but so is tailgating.
Our typical tailgate consists of 3-4 tents, a TV, fans (when it's hot), generator, and a spread that could feed 50 people even though we typically average 30 or so folks.  For the bigger games we can push upwards of 50 at any point and time during the day.  We have grilled chicken, burgers, brats and fed many hungry folks while watching the crowd funnel in and the atmosphere get electric for a Saturday in Athens.  We've done low country boil when it's a night game and for the early games, maybe a sandwich bar.  We always grill chicken when playing South Carolina.  You have to have some gator tail down in Jacksonville.  When we play Arkansas my buddy Stu cooks pork all night on his big green egg and brings it in.  There is no "secret" to having the best tailgate.  What makes the tailgate great is sharing it with the ones closest to you.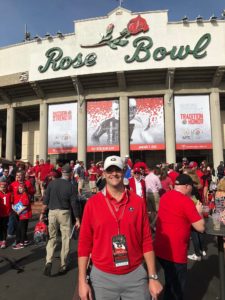 For a lot of us, we don't get to see our family or friends but a few times a year.  I am blessed that I get to have a family reunion at least 6-7 times in the fall and we have a blast doing it.  I used to be the kid running around the tailgate with my cousins playing football and running all over the place during a tailgate and now all I can do is look and smile as my kids and their cousins run around and do the same things I did at their age.  Some of my closest friends have traveled with me all over the country watching some great UGA football games.  Friends wave, stop by and chat and on their way into Sanford Stadium, or on their morning runs and always leave with a Go Dawgs!  It really is a lot of fun and a good way to get energized before the game.
There is no place like Athens and the University of Georgia on a fall Saturday.  I have been fortunate enough to travel all over this country watching the Dawgs play.  Everywhere I go has its traditions, and they are all special, but there is no place like home and tailgating in Athens with 92,000 of your closest friends.
GO DAWGS, SIC EM'!!